Children's Books
Whether living on the plains of Tanzania or in the bustling center of Mumbai, children everywhere share common ground—they love to play, learn, and spend time with their families; they deserve to be nurtured and protected; and they have incredible potential to contribute to the world.
Maya Ajmera weaves this central theme through all her books for children. Richly illustrated with photographs of kids from around the world, these books celebrate what makes each child unique, while affirming our shared humanity.
Board Books (Newborn to Age 3)
Picture Books (Ages 3 to 7 years)
No matter where you live, to be a kid means playing with friends, going to school, and being surrounded by loved ones. Discover the common experiences that bind all children together.
All neighborhoods have homes, friends, and places to explore and take care of. In this touching book, children discover the meaning of community.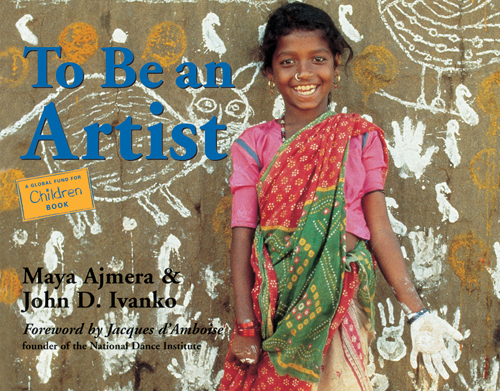 Children everywhere express themselves through paint, song, dance, and more. Learn to appreciate the world's creativity with this colorful celebration of the arts.
Healthy kids drink clean water, eat nutritious food, and have safe places to play and sleep. Learn about the many ways kids stay healthy, no matter where they live.
What we wear can express who we are: our school, our faith, our heritage, or our favorite sports team. This book features children and clothing from 45 countries worldwide.
Diverse religions of the world are reflected in one graceful volume that celebrates religious tolerance and what unites us as human beings.
A joyful and empowering environmental book from Moms Clean Air Force, a national movement of more than one hundred thousand moms—and dads—who are protecting the right of every child to breathe clean air.
This book honors the special relationship between grandchildren and their grandparents, who have a universal ability to teach, listen, and love.
Photographs from around the world celebrate the universal joy that kids get from making music, whether they're playing instruments, clapping their hands, stomping their feet, or singing. Music can help express one child's feelings—or it can bring a whole community together.
Young Readers (Ages 5 to 9 years)
Take a journey through the alphabet and around the world with this introduction to diverse nations and cultures.
Learn about the everyday lives and incredible diversity of kids in 51 cities across the country. An enriching volume with cool facts, hopeful stories, and the young faces of America today.